2022 Call Stats
Month
Fire
EMS
Overlaps
Jan
84
208
63
Feb
62
181
56
Mar
65
210
52
Apr
64
196
48
May
80
259
86
Jun
60
194
73
Jul
75
199
68
Aug
67
190
52
Sep
64
218
63
Oct
80
209
80
Nov
77
186
67
Dec
102
220
85
Total
880
2470
793
Past Call Stats
Year
Fire
EMS
2021
896
2225
2020
981
1911
2019
1012
2363
2018
922
2297
2017
886
2126
2016
920
2164
2015
917
2104
2014
904
2197
2013
813
2168
2012
838
2259
2011
850
2163
2010
771
2094
2009
724
2024
Web Counters
Website Visitors
Since
October 15, 2010

Visitors Today
Jan 30, 2023

Berwyn Fire Company Community Events
Berwyn Fire Company Capital Campaign for New Fire Stations!
After 93 years in our building we are pleased to announce that in conjunction with the Board of Supervisors from Tredyffrin & Easttown Townships, a 2-phased plan is in place to replace our existing Main Station on Bridge Avenue and build a new (permanent) station in Tredyffrin Township. These buildings will effectively allow our personnel to respond faster, and safer, to Fire and EMS emergencies for decades to come!
In order for these stations to become a reality, the Berwyn Fire Company is targeting to raise an additional $2,500,000 in Capital Donations from the Tredyffrin-Easttown Community by the end of 2023.
To learn more about the Capital Campaign or to donate click the image below.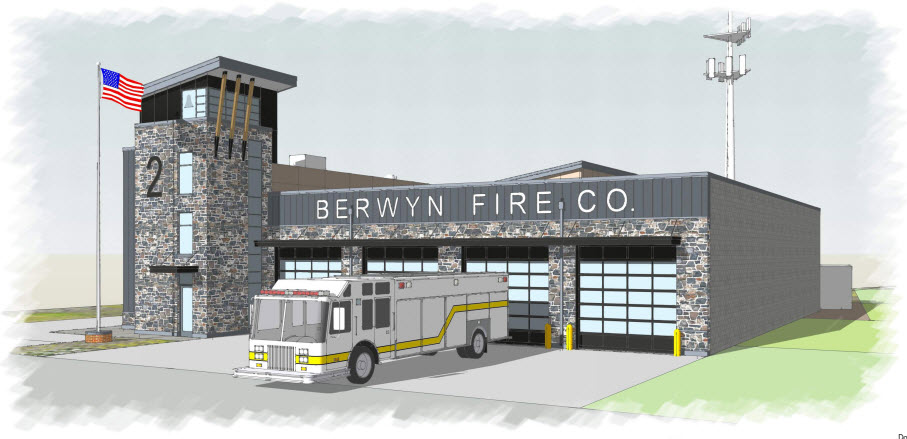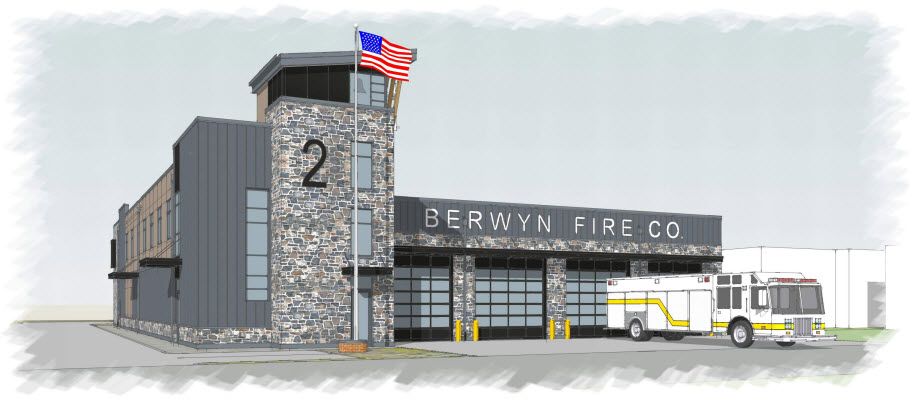 Overnight Fatal Crash on Rt. 422

WatchDesk , January 28

BERWYN, PA - The Berwyn Fire Company was dispatched at 3:28 a.m. to Rt. 422 Eastbound in the area of the PA Turnpike underpass in Tredyffrin Township for a motor vehicle collision. Due to the call possibly being further down the highway into Montgomery County, resources from Upper Merion Township Fire & EMS were also dispatched.

First responders arrived with a two-vehicle crash blocking the roadway. ... (Full Story & Photos)

Berwyn Fire Company Receives Water Rescue Team Recertification

NewsDesk, January 18

BERWYN, PA - The Berwyn Fire Company was officially notified last week that the Company was recognized by the Pennsylvania Department of Health, Bureau of Emergency Medical Services and the Office of the State Fire Commissioner for achieving water rescue team recertification through the Voluntary Rescue Service Recognition Program.

The Company was first recognized under this program in 2019 and ... (Full Story & Photos)


Driver Injured After Truck Overturns on Berwyn Paoli Rd.

WatchDesk, January 15

BERWYN, PA - The Berwyn Fire Company was dispatched at 3:01 p.m. for a motor vehicle collision in the 1300 block of Berwyn Paoli Rd. in Easttown Township.

First arriving crews encountered a pickup truck that had flipped onto its roof after striking a utility pole. The driver was able to crawl out, but was injured.

As EMS tended to the driver, the crews of Engine 2-1 and Engine 2-2 secured the ... (Full Story & Photos)


Berwyn Fire Company Receives Special State Recognition

NewsDesk , January 14

BERWYN, PA - The Berwyn Fire Company received official notification this past week that the Company is now recognized as a Vehicle and Machinery Rescue - Operation Level unit through the Pennsylvania Voluntary Rescue Service Recognition (VRSR) program.

This is an upgrade in the VRSR program from the Vehicle and Machinery - Basic Level that was first achieved by the Company in 2019.

The Office of ... (Full Story & Photos)

Firefighters Respond to Glenhardie Condos Fire

WatchDesk, January 12

BERWYN, PA - Earlier this morning at 6:28 a.m., the Berwyn Fire Company, along with automatic mutual aid from Upper Merion Township Fire & EMS, Radnor Fire Company, Paoli Fire Company and Valley Forge Volunteer Fire Co. were dispatched to the Glenhardie Condominiums Hancock Building on Drummers Ln. in Tredyffrin Township for an apartment fire.

Initial crews arrived with smoke showing from a 1st ... (Full Story & Photos)