2023 Call Stats
Month
Fire
EMS
Overlaps
Jan
68
230
89
Feb
46
170
57
Mar
88
192
69
Apr
50
190
49
May
51
216
65
Jun
73
208
57
Jul
70
191
52
Aug
65
202
63
Sep
Oct
Nov
Dec
Total
511
1599
501
Past Call Stats
Year
Fire
EMS
2022
880
2470
2021
896
2225
2020
981
1911
2019
1012
2363
2018
922
2297
2017
886
2126
2016
920
2164
2015
917
2104
2014
904
2197
2013
813
2168
2012
838
2259
2011
850
2163
2010
771
2094
2009
724
2024
Web Counters
Website Visitors
Since
October 15, 2010

Visitors Today
Sep 27, 2023

Berwyn Fire Company Community Events

Berwyn Fire Company Capital Campaign for New Fire Stations!
After 94 years in our building we are pleased to announce that in conjunction with the Board of Supervisors from Tredyffrin & Easttown Townships, a 2-phased plan is in place to replace our existing Main Station at 23 Bridge Avenue in Easttown Township and to construct a permanent station at 1485 Valley Forge Road in Tredyffrin Township.
These buildings will effectively allow our personnel to respond faster, and safer, to Fire and EMS emergencies for decades to come!
In order for these two stations to become a reality, the Berwyn Fire Company is targeting to raise an additional $2,500,000 in Capital Donations from the T-E Community.
To learn more about the Capital Campaign or to donate click the image below.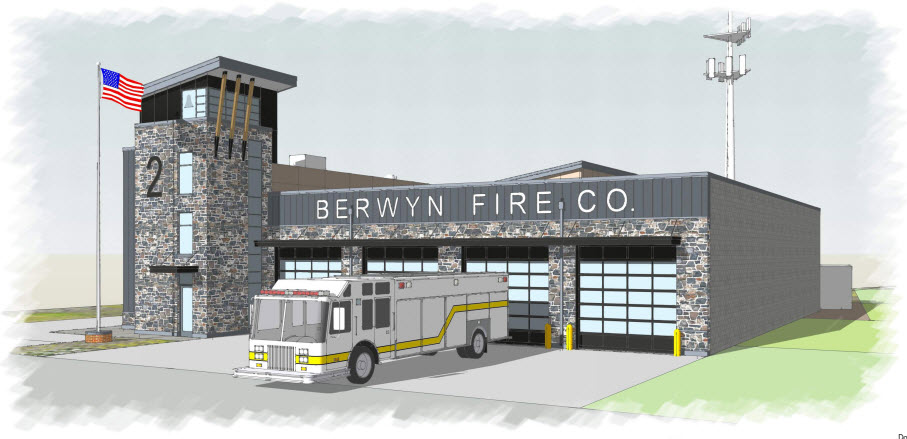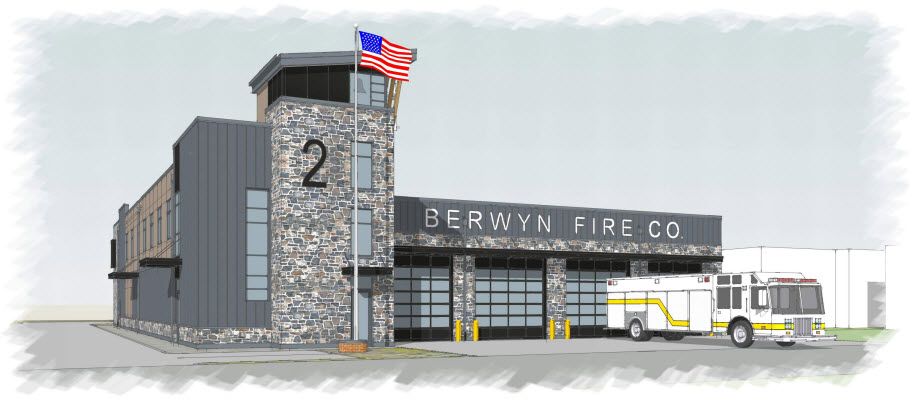 Berwyn Summer Fest Raises $10K for New Fire Station

NewsDesk, September 22

BERWYN, PA - The Berwyn Fire Company would like to thank all those who attended Berwyn Summer Fest this past August. This event helped to raise $10,000 towards the Berwyn Fire Company Capital Campaign.

A huge shout out to Eadeh Enterprises, Casey's Pour Hose, Berwyn Tavern, La Cabra Brewing and the Berwyn Farmers Market for their efforts to promote the importance of building a safe and modern public ... (Full Story & Photos)


2023 EMS Fund Drive Underway

NewsDesk, September 12

Dear Neighbor(s),

Last year the volunteers and staff of Berwyn Fire Company EMS responded to 2,470 medical calls for help, our busiest year on record! Additionally, Berwyn EMS assisted in over 500 Fire/Rescue calls in support of our firefighters. Our first responders are available 24 hours a day at the firehouse to provide timely lifesaving support, public assistance, and firefighter aid during emergency ... (Full Story & Photos)



Donations play an important role in keeping the Berwyn Fire Company operating. While the year is not over yet, the donations received to date are below average as we look at our historical data. Please donate what you can!



A Blue Mass will be held on Monday, September 11th at 8 a.m. at St. Isaac Jogues Parish.

Blue Mass Commemorating 9/11 22nd Anniversary

Newsdesk, September 09

BERWYN, PA - St. Isaac Jogues Parish and the Knights of Columbus will remember the sacrifices of first responders at a Blue Mass at 8:00 a.m. on Monday, September 11th. The church is located at 50 W. Walker Rd. in the Wayne section of Tredyffrin Township. The Berwyn Fire Company, Paoli Fire Company, Radnor Fire Company and Tredyffrin Township Police Department will be among the first responders present.

After ... (Full Story & Photos)


Berwyn Fire/EMS crews respond to 11 calls in 11 hours on Saturday

WatchDesk, August 26

BERWYN, PA - The Berwyn Fire Company had an active Saturday handling 11 calls for service in 11 hours in the Tredyffrin-Easttown community.

This included several medicals calls and fire incidents. At one point 5 emergency vehicles were on the road at the same time between the main station and substation; MICU 102, Ambulance 2-3, Ambulance 2-4, ATV 2 and Engine 2-2.

Radnor Fire Company EMS provided ... (Full Story & Photos)


Support Berwyn Fire Co. at Berwyn Summer Fest

NewsDesk , August 25

BERWYN, PA - As part of the Berwyn Summer Fest on Sunday, August 27th, you can support the Berwyn Fire Company.

La Cabra Brewing, Berwyn Tavern and Casey's Pour House are participating in the Summer Send Off Pub Crawl from 12 p.m. to 6 p.m.

Buy a $20 Berwyn Summer Fest stein to get one free beer at each bar. 100% of the proceeds go towards the new Berwyn fire station construction project.

You ... (Full Story & Photos)