2023 Call Stats
Month
Fire
EMS
Overlaps
Jan
68
231
89
Feb
47
169
57
Mar
88
193
69
Apr
51
190
49
May
Jun
Jul
Aug
Sep
Oct
Nov
Dec
Total
254
783
264
Past Call Stats
Year
Fire
EMS
2022
880
2470
2021
896
2225
2020
981
1911
2019
1012
2363
2018
922
2297
2017
886
2126
2016
920
2164
2015
917
2104
2014
904
2197
2013
813
2168
2012
838
2259
2011
850
2163
2010
771
2094
2009
724
2024
Web Counters
Website Visitors
Since
October 15, 2010

Visitors Today
May 29, 2023

Berwyn Fire Company Community Events

Berwyn Fire Company Capital Campaign for New Fire Stations!
After 94 years in our building we are pleased to announce that in conjunction with the Board of Supervisors from Tredyffrin & Easttown Townships, a 2-phased plan is in place to replace our existing Main Station at 23 Bridge Avenue in Easttown Township and to construct a permanent station at 1485 Valley Forge Road in Tredyffrin Township.
These buildings will effectively allow our personnel to respond faster, and safer, to Fire and EMS emergencies for decades to come!
In order for these two stations to become a reality, the Berwyn Fire Company is targeting to raise an additional $2,500,000 in Capital Donations from the T-E Community.
To learn more about the Capital Campaign or to donate click the image below.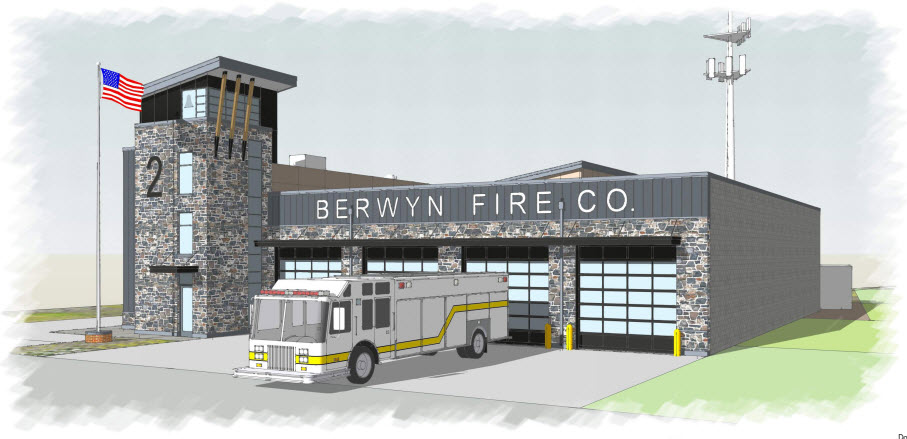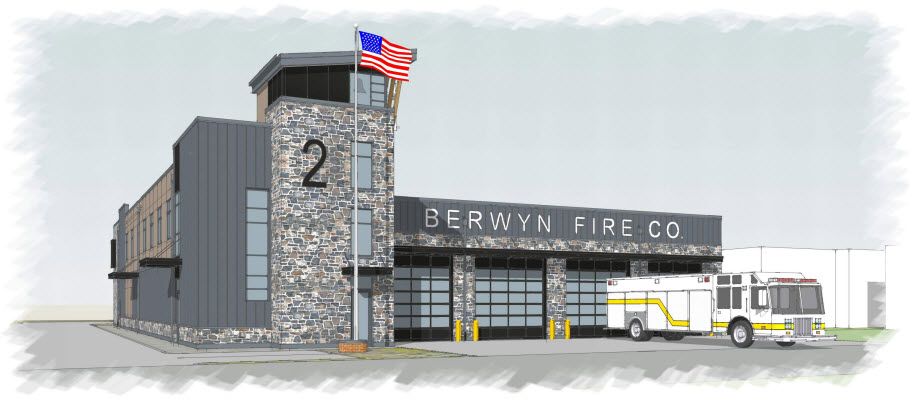 Honor Our Nation's Heroes This Memorial Day

NewsDesk , May 29

BERWYN, PA - The Berwyn Fire Company would like to recognize all those service men and women who have paid the ultimate sacrifice in defense of the United States of America. Without their will to fight and the support of their loved ones, we would not enjoy the freedoms that exist in our democratic society.

The National Moment of Remembrance, established by Congress, asks Americans, wherever they ... (Full Story & Photos)


Berwyn Fire Co. Volunteers Graduate from College

NewsDesk, May 26

BERWYN, PA - The Berwyn Fire Company (BFC) is proud to spotlight some of our active members who are graduating from college this spring. They all joined the Company while attending Conestoga High School and have stayed committed throughout their time away at college.

Emily Nudy joined BFC in February of 2019 as an active EMS member. She was promoted to EMS Lieutenant in March of 2021 and her main ... (Full Story & Photos)



BFC volunteer and Tredyffrin resident Scott Miesen pursued a Bachelor's Degree in Fire Science with a concentration in Fire Administration from the University of New Haven.



The Devon Horse Show and Country Fair, located in Devon, Pennsylvania, will host its annual event from Thursday, May 25 - Sunday, June 4, 2023.

Berwyn Fire Co. Prepared for Prestigious Devon Horse Show

NewsDesk , May 25

DEVON, PA - The Devon Horse Show and Country Fair, located in Devon, Pennsylvania, will host its annual event from Thursday, May 25 - Sunday, June 4, 2023.

The Devon Horse Show and Country Fair is the longest running and largest outdoor multi-breed competition in the United States. With the grandeur of Philadelphia's prestigious Main Line setting the stage, the event features a world-class field ... (Full Story & Photos)


BFC Hosting Info. Session for Prospective Volunteers

NewsDesk , May 24

BERWYN, PA - The Berwyn Fire Company is hosting an informational session for prospective volunteers on Tuesday, May 30th at 7 p.m.

The session will be held at the Berwyn Fire Company - Main Station located at 23 Bridge Avenue in Berwyn. Parking is available in the rear of the fire station or in the east side lot of the Goodwill Store & Donation Center across the street from the station.

To register, ... (Full Story & Photos)

Berwyn Fire Co. Recognizes Nat'l EMS Week 2023

NewsDesk, May 21

BERWYN, PA - May 21-27, 2023, marks the 49th annual National EMS Week. In 1974, President Gerald Ford authorized EMS Week to celebrate EMS practitioners and the important work they do in our nation's communities. This year's theme is EMS: Where Emergency Care Begins.

The importance of having high quality pre-hospital EMS care in the T-E community is central to the mission of the Berwyn Fire Company ... (Full Story & Photos)