2022 Call Stats
Month
Fire
EMS
Overlaps
Jan
84
208
63
Feb
62
180
56
Mar
65
210
52
Apr
64
200
48
May
80
257
86
Jun
Jul
Aug
Sep
Oct
Nov
Dec
Total
355
1055
305
Past Call Stats
Year
Fire
EMS
2021
896
2225
2020
981
1911
2019
1012
2363
2018
922
2297
2017
886
2126
2016
920
2164
2015
917
2104
2014
904
2197
2013
813
2168
2012
838
2259
2011
850
2163
2010
771
2094
2009
724
2024
Web Counters
Website Visitors
Since
October 15, 2010

Visitors Today
Jun 30, 2022

Berwyn Fire Company Community Events
National Weather Service Alerts for Chester County, PA
Berwyn Fire Company Capital Campaign for New Fire Stations!
After 93 years in our building we are pleased to announce that in conjunction with the Board of Supervisors from Tredyffrin & Easttown Townships, a 2-phased plan is in place to replace our existing Main Station on Bridge Avenue and build a new (permanent) station in Tredyffrin Township. These buildings will effectively allow our personnel to respond faster, and safer, to Fire and EMS emergencies for decades to come!
In order for these stations to become a reality, the Berwyn Fire Company is targeting to raise an additional $2,500,000 in Capital Donations from the Tredyffrin-Easttown Community by the end of 2023.
To learn more about the Capital Campaign or to donate click the image below.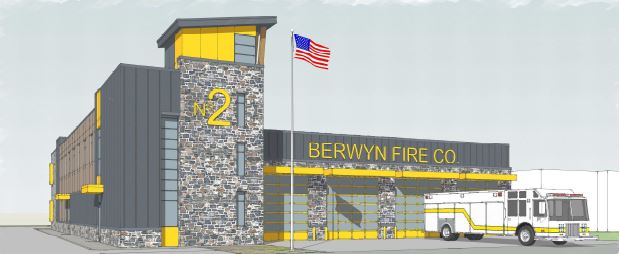 Pennsylvania CARES is a statewide partner of the Cardiac Arrest Registry to Enhance Survival (CARES), a national cardiac arrest registry that allows communities to measure bystander and 911 response, including information about bystander CPR and AED application, telephone CPR, and EMS response.

BFC Efforts Produce Successful Out-of-Hospital Cardiac Arrest Survival Rates

NewsDesk, June 24

BERWYN, PA - The Berwyn Fire Company was proud to once again take part in the Pennsylvania CARES Program in 2021. The program recognizes agency's dedication to collecting out-of-hospital cardiac arrest (OHCA) data for quality improvement purposes.

As career staff and volunteers worked through the COVID pandemic, they provided high quality and timely care to the Tredyffrin-Easttown community. The ... (Full Story & Photos)


Berwyn Fire Co. Recognized for Water Rescue Excellence

NewsDesk, June 13

SOUTH BEND, IN - On Sunday, June 12th, the Berwyn Fire Company was recognized by the Higgins and Langley Memorial Awards under the Incident Award category for leadership in the challenging and complex swiftwater rescue of an adult trapped in a vehicle along Valley Creek in Valley Forge National Historical Park on September 1, 2021.

The Berwyn Fire Company was present among other recipients in various ... (Full Story & Photos)



Berwyn Firefighter/Paramedic Albert Brawn, IV, Assistant Chief Eamon Brazunas and Battalion Chief Evan Brazunas receiving an Incident Award at the Higgins & Langley Memorial Awards ceremony in South Bend, Indiana on Sunday, June 12, 2022.


Roof Fire at Keystone Volvo in Berwyn

WatchDesk, May 30

BERWYN, PA - After attending the Radnor Township Memorial Day Parade today, the Berwyn Fire Company was dispatched at 12 Noon for a building fire in the 400 block of Lancaster Avenue in Easttown Township.

The crew of Berwyn Engine 2-3 arrived within 4 minutes of dispatch with smoke and fire showing from the roof area of an auto dealership. Due to solar panels on the roof, firefighters had to use ... (Full Story & Photos)

Another 15 Call Day for BFC

WatchDesk, May 23

BERWYN, PA - After a 15 call day on Saturday, Berwyn Fire Company volunteers and career staff were back at it on Sunday responding to another 15 calls in a 17 hour period.

There were 10 fire and EMS calls that occurred within the T-E community. There were also 5 mutual aid responses provided to the Paoli Fire Company, Radnor Fire Company, Upper Merion Township Fire/EMS, and Newtown Square Fire Company. ... (Full Story & Photos)

Busy End to EMS Week for Berwyn First Responders

WatchDesk, May 22

BERWYN, PA - It was a busy end to National EMS Week for Berwyn first responders. A total of 15 EMS and fire calls were responded to in just 15 hours on a hot and humid Saturday. This was also the 5th time this past week where double-digit call volume was experienced by emergency crews.

At one point there were 4 simultaneous EMS incidents occurring in the early afternoon that required assistance from ... (Full Story & Photos)